Empower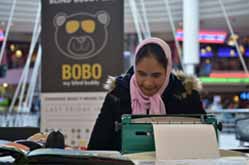 Our rehabilitation and independence development programmes provide newly blinded adults and youth with the opportunity to gain and improve the skills required to function independently. This empowerment lays the foundation for any progress to be made in education, employment and other social spheres.
EDUCATE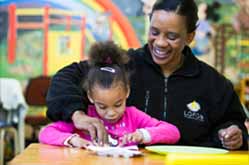 Education is integral to the development of our clients from a young age to late adulthood. Successful integration into special or mainstream schooling for our children requires proper foundations to be laid while some adults who seek employment face the challenge of completing Grade 12. The multi-disciplinary team along with dedicated volunteers who support our afterschool programme have ensured we can support learners in different settings throughout the year.
Employ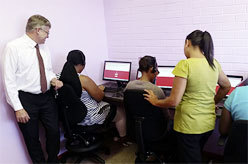 Gainful employment is a natural progression from our empowerment and educational programmes. The declining rates of employment of disabled people is not only a global trend but affects us locally. In order to combat this trend, we prepare our adults to be skilled and confident in their abilities. The programme consists of CV preparation, interviewing skills, reasonable accommodations, psychosocial aspects of employment, assistive technology education and training, and practical placements. The switchboard training, computer literacy and communication skills form the foundation of this programme.
E-nnovate
The complex social and environmental challenges that our clients experience in resource deprived communities requires innovative approaches to facilitate successful integration and inclusion. The E-nnovate programmes is an important part of our research and development service drawing on design thinking and traditional forms of academic inquiry for effective strategy, product or system development.