Our community and rural outreach programme is essential for delivering support to clients, community health centres and other rehabilitation professionals that cannot access our centre readily. We share our knowledge, experience and resources in various areas. We provide basic training with community health professionals, assessments and follow up with clients, low vision services, distributed assistive devices and process applications for cataract removals. Closer to home we conduct awareness sessions at schools, NGO's, professionals such as Community Occupational Therapists, Ophthalmic nurses, Social workers and Doctors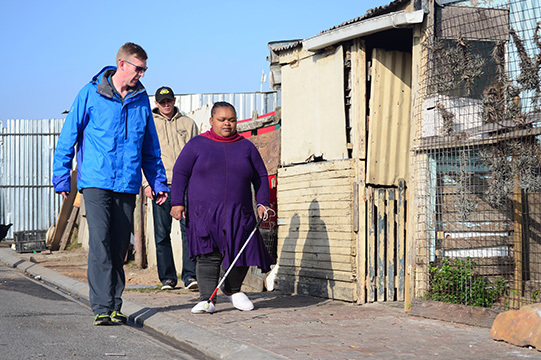 Towns visited in the West coast/Winelands area include Wellington, Wolseley, Tulbagh, Riebeek-West, Riebeek Kasteel, Porterville, Piketberg, Citrusdal, Clanwilliam, Klawer, Vanrhynsdorp, Lutzville, Vredendal, Saldanha Bay, Hopefield, Langebaan, Darling, Mamre. Also, day trips are regularly undertaken to areas that are not as further afield, such as Stellenbosch, Paarl, Atlantis, Strand, Gordon's Bay.
During these week-long Rural Outreach trips, LOFOB staff visit as many town clinics, community health centres, day hospitals, old age homes, and many client homes as possible.